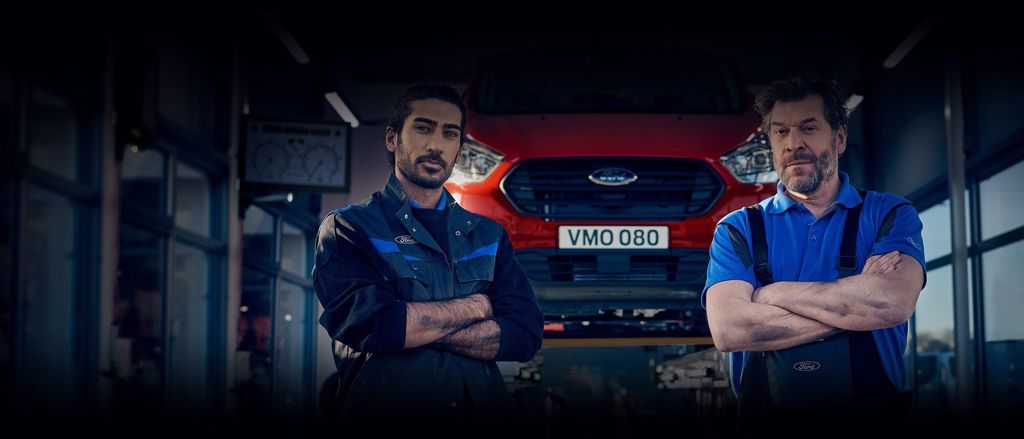 FordPass Pro. In control and in the know.
Meet Your Van's Smart Side
Whether you work with one business vehicle or manage up to five, FordPass Pro gives you the tools you need to help keep them healthy, secure, and running smoothly.
THE BUSINESS APP FOR CONNECTED VEHICLES
Unlock your vehicle's smart side and manage a fleet of up to five commercial vehicles using FordPass Pro. The app can pair with vehicles that have FordPass Connect†, allowing you to access a range of tools that help improve vehicle health, security and productivity. Download FordPass Pro from the App Store or Google Play today.
PROTECT YOUR BUSINESS
A heightened state of security over and above your vehicle's alarm system. SecuriAlert will notify you if it detects someone trying to access your vehicle, even with a stolen or duplicated key.
CHECK THE LOCKS
For added peace-of-mind, Live Lock status lets you check all vehicle doors are locked at a glance. You can even access your Command Centre in the app to lock or unlock doors remotely.
KEEP TRACK OF YOUR VEHICLES
Are your vehicles all where they should be? With FordPass Pro you'll know. Keep an eye on your business vehicles, with their last recorded location all on one map.
MANAGE ACCESS
Remote Zonal Locking lets you control the cabin and load doors separately. So you can allow someone access to the cabin while keeping your load compartment secure.
MANAGE REMOTELY

Check if a vehicle is secure, then lock or unlock it from the app. You can even start automatic vehicles* remotely, helping to make sure it is de-iced and ready to work when you are.
STAY ONLINE

Run your business straight from your van. The FordPass Connect turns your vehicle cabin into your office on the road, with a Wi-Fi hotspot**, allowing you to connect up to 10 devices in and around your vehicle.
*REMOTE START/STOP FEATURE
Ford Ranger models built before 23.06.2020 will not have Remote Start function, and Remote Start button will not be displayed in the App.
**Wi-Fi Hotspot
Wi-Fi hotspot (up to 4G LTE) includes a complimentary wireless data trial for a limited time only that begins at time of activation. Afterwards, data bundles can be purchased from Vodafone. Please refer to their website for details of their data packages. To take advantage of the built-in Wi-Fi hotspot capability, Ford vehicles must come with the appropriate hardware, and a data plan is required. Data coverage and service is not available everywhere and terms of your data plan, including applicable message and data rates, may apply.
Important Information
[‡]Live Traffic and Local Hazard Information are complimentary for the first 12 months following the purchase of a new Ford; thereafter a license fee is payable.
[§]Please note this feature will be made available in late 2020.



Check the health of your vehicles




Get alerted if issues arise




Access your vehicles remotely
---
Stay Connected

FordPass Pro is designed for new commercial vehicles that come with FordPass Connect. Our built-in modem keeps you effortlessly connected with your vehicles wherever you are. Giving you all the features you need to keep your business moving.
Take control

For peace of mind, lock your vehicle wherever you are to make sure everything is safe and secure. And with automatic vehicles, you can even start the engine from the app, to warm up for those early morning starts. Just open your command centre with a tap to control your vehicle remotely.
Get Alerted

If issues arise with any of your vehicles, you'll be alerted. That way, you can deal with them and avoid surprise costs later on. Then set your preferred Ford Dealer, and arrange servicing and repairs straight from the app. Helping you plan ahead and keep your vehicles on the road.
Check in

With instant access to the most important information on each of your vehicles, it's easy to stay on top of maintenance. You can check your tyre pressures in the app, so you know to top them up if they're running low, helping reduce wear and tear and improving fuel economy. You can also see your AdBlue level, meaning you'll always know when you need to refill.
---



Keep track

Are your vehicles where they should be? Now you'll know.
Check in throughout the day, or when you're heading home, with their most recent locations all plotted on one map. So when the work day's done you can rest assured everything is safe and in the right place.
Imagery and information shown throughout this website may not reflect latest ROI specifications, colours may vary, options and/or accessories may be featured at additional cost and locations and vehicles used may be outside of the ROI. Ford policy is one of continuous product development. The right is reserved to change specifications, colours of the models and items illustrated and described on this website at any time.

[†]This is the recommended retail price for the model shown excludes; optional extras, promotions, delivery and dealer related charges.
**All-New Kuga PHEV Price includes the SEAI grant (5,000 EURO) and the VRT rebate (2,500 EURO). Private customers only. Exclusions apply.
[‡]This is the recommended retail price for the model shown excludes; optional extras, promotions, delivery and dealer related charges.